I got these items at the end of December. I got Grape Vine to use as a base, True Black to replace my MAC Fluidline in Blacktrack cuz I'm running out (yes, RUNNING out, it didn't DRY out!), and the brown one (I have no idea if it is Truffle, or another brown that they changed) to be a more "wearing makeup, without looking like I'm wearing makeup look".
True Black: When I first opened the jar and dipped my brush in, my brush SUNK IN. It was wayy creamy but after a couple uses, firmed up a bit to a consistency that I am used to. I love this on my waterline and it stays better that MAC's Fluidline in Blacktrack. I also noticed that it is a tad bit harder to remove than MAC.
Grape Vine: I don't know what I expected from this color. Don't get me wrong, it is really pretty, but also more sheer than I would like. Good thing I picked it up to use as a base and not a liner.
Brown: This color is is lighter than I expected. I have to line once and to make the color deeper, line it over for the darker brown I'd like.
I think it's a good value for $6.95 and is a great alternative for MAC Fluidlines. The staying power is amazing. Another alternative for me would be L'Oreal HIP creme liners, and I have 2 of those. They work fine on me and have yet to dry up on me (like I've seen on many other blogs) The plus to that product is that drugstores usually offer BOGO deals on them and make them even cheaper, without having to pay shipping or to wait for the package. Anyways, that's just my opinion and a more in depth review of those will come another time.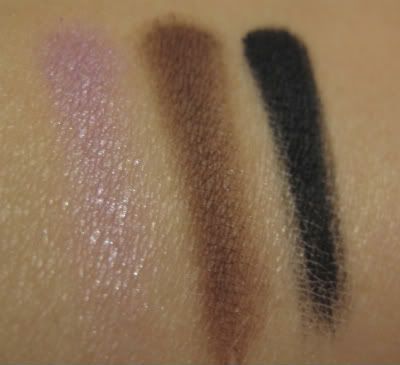 See you guys next time!