I friggin LOVE China Glaze! One of my friends just recently got a Sally's Beauty Supply membership card. To be totally honest, I would always refuse to listen to the cashier at Sally's tell me the benefits of having a card. I wish I would have earlier! It costs $5 for a year of membership and you pretty much get things at a discount. So, back to what this post was originally about, China Glaze nail polishes! WithOUT a Sally's card, a China Glaze nail polish is $5.99. WITH a Sally's card, it's only $3.25. WHAT A DEAL! The colors are gorgeous (though I'm not too fond of the neon ones, I own a pink one) and there are SOO many colors to choose from. I just bought 5 nail polishes last week.
Here is one that I really like, Spontaneous.
I used 2 coats. (no base coat, no top coat)
And 3 days later, it started to wear off a bit on the tips of my nails.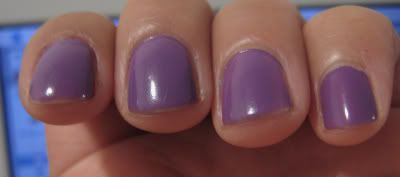 I've tried the colors I bought and they are all amazing. I will swatch them as I use them. The reason for this post is to show how well the nail polish holds up after a couple of days. I know some people expect it to last a week or so, but I get bored and change my nail polish constantly, so after 3 days, I want to change it up a bit.
Get a Sally's card if you want to save on these nail polishes. You not only save on nail polishes, but pretty much everything in the store. I got a card because I don't want to order online for China Glaze nail polishes that may be $2.68 or so, but you have to pay shipping, wait for your package, and you can't see the color in person.
Okay, talk to you guys later!