Ah, I've been wanting to do this post for a long time. So this is going to be a post about the different eyeshadow bases I own and how they stand up against one another. I am using my the most neutral shadow primers I have in my makeup stash (Urban Decay primer Potion, L'Oreal HIP Paint in Secretive, MAC Paint Pot in Painterly, Too Faced Shadow Insurance, and MAC Paint in Bare Canvas) and using one MAC eyeshadow in Creme de Violet.
** Note: This experiment was done on my arm and please note that eyelids are usually oily and I will share my own personal experiences about each primer at the end.

Creme de Violet. Lavender with shimmer




The Primers: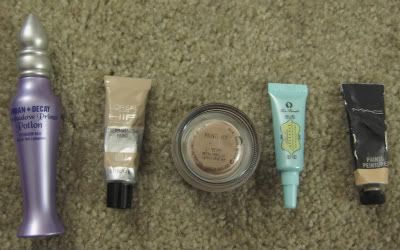 Swatches of each primer




Swatches of the e/s on each primer





After a couple hours of wear and tear. Splashed water on my arm and rubbed a towel on the swatches.


In the end, Urban Decay Primer Potion and Too Faced Shadow Insurance are the winners!
My own review on each primer:
Urban Decay Primer Potion: This is my HG of all eyeshadow primers. It is so smooth and blends out evenly and easily across my eye area. The staying power is amazing and it leaves me with no creases all day. It also brings out the color of the eyeshadows I am using. One con is the packaging. I am on my second bottle of primer potion (the jumbo bottle!) and the first time around, I thought I was out of product, but ended up with 2 5g jars full of prime! I was amazed!
L'Oreal HIP Paint in Secretive: This primer crease on me after a few hours. This is the most neutral color it comes in and has a lot of shine. I would prefer to have a matte finish but even if it did, the staying power is not impressive. NEXT!
MAC Paint Pot in Painterly: I like this as an eyeshadow base but ONLY if I apply it with a brush; if not, it will crease. It is also feels a bit dry/powdery.
Too Faced Shadow Insurance: This is one of my new loves. I have the sample and the bigger version, but I am using up the small one first. Just like I feel about UDPP, I love this primer. It's smooth and only takes one dot of product to cover the whole eye. The packaging is also great so that I don't have to cut it open to get all the product out!
MAC Paint in Bare Canvas: This is a great primer and has great staying power. BUT I hate the packaging. Squeeze a little and a bunch comes out and goes to waste. Once, I accidentally squeezed a bunch out and tried to save it in a 5g jar.. DIDN'T WORK! Dried out and not at all usable. Ugh. But I like the texture and I think it's pretty good.
If you have any questions, please leave a comment! Bye!