I've been seeing videos on a rainbow look and always wanted to try it out. I even wanted to buy the Ben Nye Lumiere Palette because I saw xsparkage's video on YouTube using that palette (I think I still might buy it though, when I start working again). Anyways,here are the products that I used
Eye:
Mac Shadestick in Corn
MAC Primary Yellow Pigment-inner 1/3 of lid
MAC Off the Radar Pigment-middle of lid
MAC Sushi Flower e/s -outer 1/3 of lid
MAC Wondergrass e/s-inner 1/3 of lower lashline
MAC Big T e/s- middle of lower lashline
MAC Fertile e/s- outer 1/3 of lower lashline
Avon Fairy Eyeshadow (the light side)- as the highlight
Mabelline Unstoppable Eyeliner in Onyx- Upper lashline and waterline
Cover Girl Lash Blast Mascara in Black
Blend, Blend, Blend!!

A new angle of taking pictures!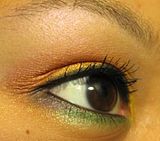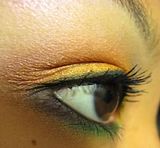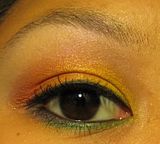 I like how this turned out. Feedback would be great. I don't think that it's too bright or over the top or anything. I think it's totally wearable!