As I mentioned in a previous blog, I purchased a couple items from Avon.
These are some of the items, not including nail polishes and what my mom got.
I have some swatches for some of the items from above.
This is the TruColor Eye quad in Turquoise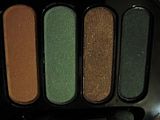 This is the Heavenly Eyeshadow Trio in Green Envy
And these are some eyeshadow pencils that I picked up.

L-R: Soft Green, Camel, Goldwrap



L-R: Slate, Blue Smoke, Vanilla, Celadon, Night Glisten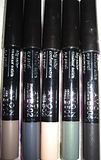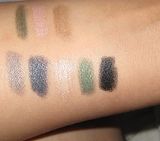 These feel pretty similar to NYX jumbo eyeshadow pencils. I LOVE to use Night Glisten as an eyeliner. It's really big and bulky, but it just glides on really dark!
Yeah, that's it for my little Avon haul. I bought a lip conditioner and I thought I'd love it. I mean, I tried it and it felt really nice and soft, but a little while passed and my lip started to swell a bit. I think I'm allergic to something in it. The same thing happens to me when I use Blistex lip balm or whatever it is...OK, Enjoy!