MToday I took a trip to the mall and found myself at the department store, Gottschalks(I would say its like a Macy's?). I was staring at the Lancome display and a woman approached me about finding my foundation shade. They were doing free 10-day sample when you got your color match. When people stop me at counters to show me stuff, I always say yes! Haha. (But I do had walking through the mall and the booths stoping me. I always go as far away as possible!!) Anyways, she commented on my eye makeup and asked if I ever thought of working with makeup and said that i did my makeup better than some of the women that worked there. Even though I think she was trying to sell me something, I was still flattered =). (I'll post my eye look later) Well, she asked what I looked for in a foundation and I said I wanted it to feel and look really natural and not look caked on. Well what she put on me was "Color Ideal II-40w" OMG it's GORGEOUS! It looked like there's nothing on my face and took away from any discoloration in my face. The downside was that it's $37. Eesh. But right now there's a free gift with a $29 purchase and wow. I just have to get some pictures for this blog!
My free Lancome Color Ideal II-40W sample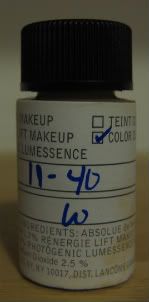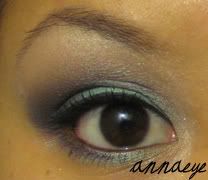 My Eye make up for today..
UDPP
MAC Rollickin Paint Pot on lid
MAC Aquadesiac e/s on lid +lower 1/2 inner lashline
MAC Deep Truth on outer + crease + outer 1/2 lower lashline
MAC Fertile e/s in outer v
Stila Convertible eye color in Onyx
MAC Fuildline in Blacktrack
CG LashBlast Mascara in Black
Toodles!