So this is what I bought 2 weeks ago. I haven''t had the time to post it till now. I got a couple items. All beauty related! Here it goes!
E.L.F
5 Custom 4 Pan Palettes
1 Bronzer in Sun Kissed
1 Bronzer in Warm Tan
1 All over color in Pink Lemonade
I've heard about the bronzers being really fragile and turns to dust once the brush touches it, but I think that was the only bad thing about it. I will do a review soon. I've previously bought palettes and those are great, and for $1 each item, why not? =)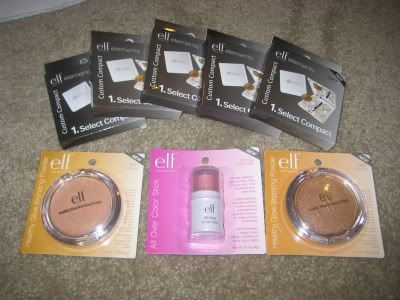 Maybelline
1 Shine Seduction Glossy Lipcolor in 196 Pink Opportunity
1 Volume XL Seduction Lip Plumper in 105 Born With It
I found these on sale for about $4 something. I thought it was a pretty good deal considering it comes with a free lip liner also. Ahh, I'm such a sucker for deals!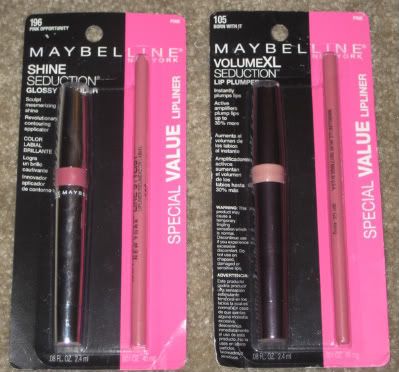 N.Y.C.
2 974A Glamour Lashes
1 972B Double Cross Lashes
And lastly, I grabbed some lashes. These are by N.Y.C. and I am in love with them! I had one of each already, but decided to grab more. These go for about $1.72 I believe.
I'll try to do swatches ASAP. I have a hard time getting the true color because of the flash though. And when I don't use a flash, my skin looks orange/yellow. O well I'll think of something!
BYE!