Here's a look I did about 2 days ago....
Face:
Stila Illuminating Tinted Moisturizer
MAC Select Cover Up Concealer (mixed with BE Rev-er Upper)
BE Foundation Medium Tan (mixed with MAC fix+)
BE Mineral Veil
MAC Mocha Blush
BE Warmth
Eyes:
MAC Bare Canvas Paint
MAC Bare Study Paint Pot
MAC Woodwinked e/s (lid)
MAC Cranberry e/s (crease)
MAC Smoke Signal pigment (outer >)
MAC Ricepaper e/s (highlight)
MAC Phloof! e/s (inner corners)
MAC Brun e/s (brows) + E.L.F. Lash and Brow Gel
MAC Fluidline Blacktrack
Maybelline Unstoppable e/l in Onyx
Clinique Naturally Glossy Mascara <- My current fave!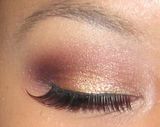 I took off the lashes cuz I couldn't get it to work for the other eye!!